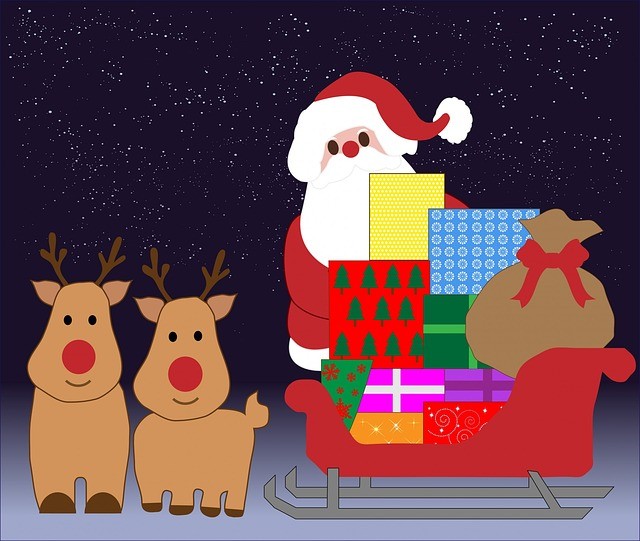 Looking for Santa's Sleigh jokes? This is the best collection of clean, funny jokes about Santa's Sleigh.
These fun jokes are great for a sleigh ride and sure to get the entire family giggling.
Telling jokes about Santa's sleigh is a perfect way to pass the time on holiday car rides – or sleigh rides!
What's the difference between a sled and a sleigh? Well, a sleigh is an open carriage pulled by horses or reindeer. A sled is for a single person to slide down a hill on. Learn more from Wikipedia here: Santa's Reindeer and Sleigh.
This collection of jokes about Santa and his famous sleigh are great for teachers, parents, kids and anyone that wants to share Santa Claus jokes and riddles focused on his sleigh. Check our Christmas Jokes collections with Elf Jokes and Reindeer jokes and more.
Santa's Sleigh Jokes
Q: What did the elf say when Santa's sleigh ran over his foot?
A: It was very Rudolph him.
Q: Why doesn't Santa have to pay to park his sleigh?
A: It's always on the house.
Q: How much does it cost to run Santa's sleigh?
A: 8 bucks, or 9 if the weather's bad.
Q: What do Santa's sleigh team like about rainy days?
A: The reinbows!
Q: What did Santa say right before his sleigh hit a tree?
A: No, No, No!
More Jokes Continue Below ↓ ↓
Q: What do reindeer sing to Santa on cold nights?
A: Freeze a Jolly Good Fellow.
Q: What's red and green and guides Santa's sleigh?
A: Rudolph the red-nosed frog.
Q: Where do Santa's reindeer stop for ice cream on Christmas Eve?
A: Deery Queen.
Q: What did Santa say when his sleigh landed in a big pond?
A: Row, Row, Row!
Q: How does Santa guide his sleigh?
A: With reinsteer.
Q: Where did Santa bring Blitzen when the sleigh ran over his tail?
A: A retail shop
Q: What did Santa say when his sleigh broke?
A: Oh deer.
Q: What do you call Santa Claus when his sleigh doesn't move?
A: Santa Pause
Q: What type of potato chip does Santa stock his sleigh with?
A: Crisp Pringles
Q: Why do reindeer tell such good stories to Santa while pulling his sleigh?
A: Because they all have tails
Q: Why is Santa so jolly on his sleigh ride?
A: He has all the toys!
Q: Which superhero do people think Santa is when his sleigh goes by?
A: The Flash.
More Jokes Continue Below ↓ ↓
Q: Why is Santa such a big fan when he's on his sleigh?
A: Because he's always behind his team!
Fun Kids Jokes has the most jokes dedicated to Christmas anywhere in the world, and more winter holiday jokes – including Reindeer Jokes, Rudolph Jokes, Santa Jokes, Elf Jokes, Mistletoe Jokes, Christmas Song Jokes, Jokes about Carollers, Grinch Jokes, Gingerbread Man Jokes, Snowman Jokes and even MORE Christmas Joke Collections.
Halloween Jokes on your Phone or Device
Never search for clean Halloween jokes again – Download them now instead. Get EVERY Halloween joke you'll ever need right now and access them anytime on your PC, phone, tablet, Kindle or other device – forever! #1 for Parents and Teachers! Great for parties, events, cards and trick-or-treating. Plus you'll get a fun bonus – Halloween Lunch Box Jokes Printable (30+ Days of Jokes).