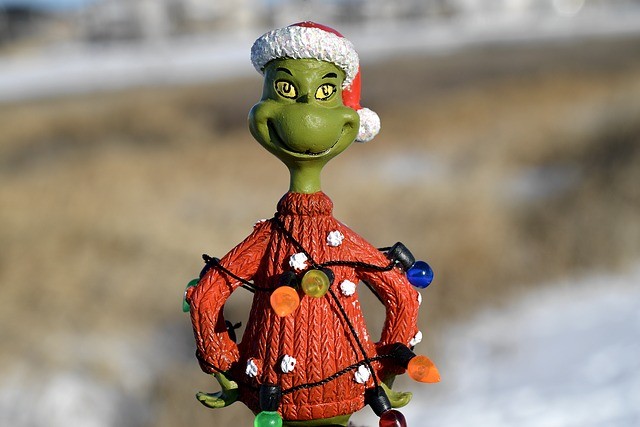 Looking for Grinch jokes? This is the best collection of puns, riddles and jokes about the Grinch who stole Christmas. These clean Grinch jokes are perfect for teachers, parents, kids and adults of all ages.
The Grinch is mean-tempered creature from the Dr. Seuss tale, titled "The Grinch Who Stole Christmas," who had a heart two sizes too small. With the help of his dog, Max, they stole everything they could from the Who's in Whoville in an attempt to ruin Christmas.
These Grinch Jokes are especially popular during the holidays and fun to share at Christmas parties with kids and adults (along with Grinch Cookies).
We hope you enjoy these funny Grinch jokes!
Grinch Jokes
Q: Why doesn't the Grinch like knock knock jokes?
A: Because there's always Who's there!
Q: Why did the Grinch want to go down the chimney?
A: Because it sooted him
Q: What is the Grinch's least favorite band?
A: The Who
Q: Why was the Grinch afraid of Santa Claus?
A: He was Claustrophobic.
Q: Where does the Grinch keep his money?
A: In a snow bank.
Q: What is the Grinch's favorite board game?
A: Mean-opoly.
More Jokes Continue Below ↓ ↓
Q: Why was the Grinch so bad at playing Crazy 8's?
A: He was green (he never played before).
Q: How fast did the Grinch's sled go?
A: Max speed.
Q: How did the city folk in Whoville refer to the Grinch?
A: As a Hill-Bully.
Q: What happened when the Grinch went to the flea circus?
A: He stole the show.
Q: Why can't the Grinch get down from the mountain?
A: You can only get down from a goose.
Q: What do you call the chocolate bars the Grinch stole?
A: Hot chocolate.
Knock knock.
Who's there?
That's right, the who's are here!
Q: Why was it so hard to miss the Grinch on Christmas morning?
A: He had all the presence.
Q: Why was the Grinch invited to the Cinco de Mayo party?
A: They thought he was a giant avocado.
Halloween Jokes on your Phone or Device
Never search for clean Halloween jokes again – Download them now instead. Get EVERY Halloween joke you'll ever need right now and access them anytime on your PC, phone, tablet, Kindle or other device – forever! #1 for Parents and Teachers! Great for parties, events, cards and trick-or-treating. Plus you'll get a fun bonus – Halloween Lunch Box Jokes Printable (30+ Days of Jokes).