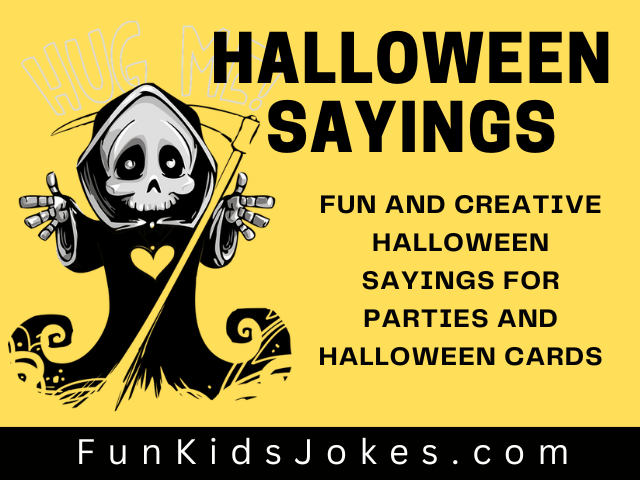 Halloween sayings are fun to share, especially at parties, while handing out candy and trick or treating. These Halloween sayings should come in handy and some are so creative you're sure to get a grin.
These are the best Halloween Sayings for kids and adults of all ages, some of which would be great if you're looking for something to write inside a Halloween card.
These Clean Halloween Sayings include some cute Halloween quotes, scary Halloween sayings and more.
Halloween Sayings
Everyone knows that demons are a ghoul's best friend…
Trick or treat, smell my feet, give me something good to eat!
Enter if you dare.
Ghosts live here.
Halloween is a real treat
Turn back if you want to live.
Have a fang-tastic night!
Ghost and over there…
Too cute to Spook!
Don't let all the candies go to WAIST.
If the broom fits, fly it!
Halloween is a real treat.
Don't be a scaredy cat
Trick or treat.
Keep calm and scary on.
Casper the friendly ghost.
Can YOU be my Halloween treat.
Stop in for a spell
Please park all brooms at the door
A hug a day keep the monsters away.
Caution: Witch Crossing.

Something to Write Inside a Halloween Card

Happy Halloween – whatever you are…
Have a bootiful Halloween
Happy Haunting!
Wishing you a very hunted Halloween.
Ghostly Greetings!
Eat, drink and be scary!
Hope you have a fang-tastic Halloween!
I witch you a Happy Halloween
Wishing you a night full of frights – and a bag full of sweet delights.
Cute Halloween Quotes
"If you see a black cat up in a tree, pull it's tail and think of me." [Unknown]
"Hold on, Man. We don't go anywhere with 'scary', 'spooky', 'haunted', or 'forbidden' in the title." [Shaggy from "Scooby Doo"]
"Trick or treat, bag of sweets, ghosts are walking down the street." [unknown]
"A person should always choose a costume which is in direct contrast to her own personality." [Lucy Van Pelt in "It's the Great Pumpkin, Charlie Brown"]
"Ghost or no ghost. It is Halloween, no one should go home without their candy." Daphne from "Scooby Doo"]
Halloween Jokes on your Phone or Device
Never search for clean Halloween jokes again – Download them now instead. Get EVERY Halloween joke you'll ever need right now and access them anytime on your PC, phone, tablet, Kindle or other device – forever! #1 for Parents and Teachers! Great for parties, events, cards and trick-or-treating. Plus you'll get a fun bonus – Halloween Lunch Box Jokes Printable (30+ Days of Jokes).