Funny Kids Jokes – Latest Joke Collections
All of the most recently added joke collections at Fun Kids Jokes – the best site for clean, safe jokes for kids of all ages. Great for parents, teachers, coaches, grandparents, librarians, caregivers and – of course – children!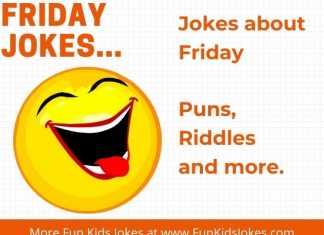 Friday jokes, puns, riddles and more. Funny Jokes about Friday for all ages. Share these clean Friday jokes with anyone who could use a laugh on a Friday - and kick off the weekend with a smile!