The Mouse on the Mayflower is a Thanksgiving special from Rankin/Bass with lots of songs and the story of Thanksgiving.
Caillou's Thanksgiving is a nice Thanksgiving Video for Kids and the whole family.
Watch A Charlie Brown Thanksgiving with all your favorite Peanuts characters.
Listen to the soundtrack with all the mustic from the classic Halloween cartoon, It's the Great Pumpkin Charlie Brown.
This Winnie the Pooh Halloween special is perfect for all ages during the Halloween season.
Watch Charlie Brown, Lucy, Linus, Sally, Snoopy & friends in this classic kids Halloween show suitable for most ages.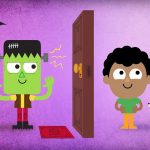 Treat the children in your life to this funny Halloween video with knock knock jokes that are safe for kids of all ages. You...
The Bounce Patrol gang tells 20 funny kids jokes! Laugh along with some clean, family-friendly jokes for children of all ages with a funny kids joke video.
This is the full length version of the original 1964 classic Rudolph the Red-Nosed Reindeer. Great for kids, clean and safe. Watch Rudolph the Red-Nosed Reindeer for Christmas.
55-minute music video with 29 classic songs that you don't have to worry about. It starts with 3 Christmas classics and then goes into classic kids tunes.
It's the Peppa Pig Christmas Show. Watch this fun episode of Peppa Pig for the Holidays.
Peppa Pig is a clean, safe show for young kids, including pre-k and kindergarten. Watch this full episode & see our collection of funny Peppa Pig Episodes.
Watch the full video of the classic 1970 film Santa Claus is Coming to Town. The story of Santa Claus loved by kids and parents everywhere.
The second video and song from The Duck Song series as sung by Bryant Oden. Fun and safe for all ages. Funny video and song for the entire family.