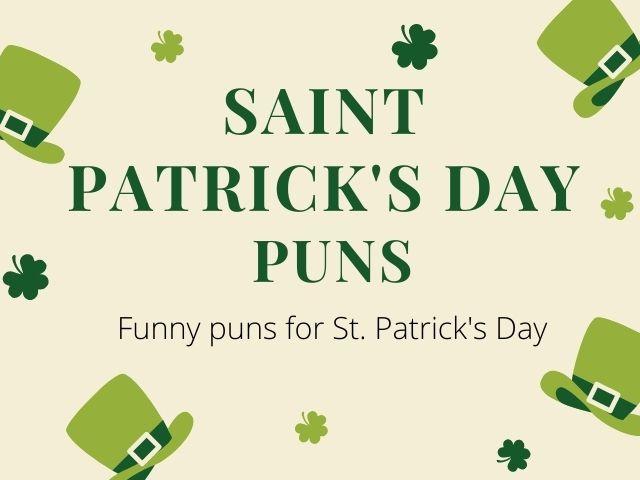 Funny St. Patrick's Day puns for Saint Paddy's Day for all ages. These is the best St. Patrick's Day pun collection that you'll find online. Great puns about leprechauns, shamrocks, St. Patrick, Ireland and more!
St. Patrick's Day is a day that people all over the world celebrate – even if they're not Irish – and puns are a clever way to get some smiles.
If you're celebrating Saint Patrick's Day, share some of these puns with your friends or family. Write them out in a greeting card or post to your social media account!
Saint Patrick's Day Puns
It's March… when hockey players celebrate Saint hat-tricks day…
IRE-land…. it's where you find the maddest leprechauns.
Shamrock like an Egyptian.
Shamrock and roll.
Irish every day could be St. Patrick's Day.
If it ain't brogue, don't fix it.
You look spud-tacular!
More Jokes Continue Below ↓ ↓
Dublin' the fun for everyone.
I sprained my Blarney, now I can't walk.
Irish you a whole pot of gold
If Ireland you money, you have to pay me back.
You sham-rock!
We're in a-green-ment.
That's the lepre-gong – time to eat!
I'm a clover, not a fighter.
Here today, leprechaun tomorrow.
And then Fred said to Blarney…
Irish you a happy St. Patrick's day!
I'm Dublin down on what I said.
More Jokes Continue Below ↓ ↓
Irish you luck.
Are you a-green with me?
You'll be Dublin your fortune before too long.
You've got me greening from ear to ear.
Irish I had more soda bread.
Oh no, I've made a jig mistake…
The dinosaur said Happy St. PaT-rex Day.
I'm Dublin over in laughter.
Irish you a Happy St. Patrick's Day!
Don't ever kiss a leper-con!
It ain't clover till it's clover.
Irish I may, Irish I might…
Irish you were here.
Ready to shamrock and roll.
Seeing green.
Fold your cloves and put them away.
The paddy won't start till I walk in.
Halloween Jokes on your Phone or Device
Never search for clean Halloween jokes again – Download them now instead. Get EVERY Halloween joke you'll ever need right now and access them anytime on your PC, phone, tablet, Kindle or other device – forever! #1 for Parents and Teachers! Great for parties, events, cards and trick-or-treating. Plus you'll get a fun bonus – Halloween Lunch Box Jokes Printable (30+ Days of Jokes).