 What kind of makeup do witches wear? Find out with this funny captioned witch joke... What do T-Rex's eat on camping trips?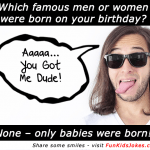 From the Birthday Jokes Collection. From the Kids Math Jokes collection. From the Bird Jokes for Kids Collection. From: Soccer Jokes for Kids From: Knock Knock Jokes Starting with the Letter Z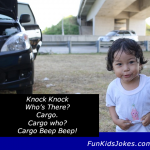 Knock knock. Who's There? Cargo. Cargo who?