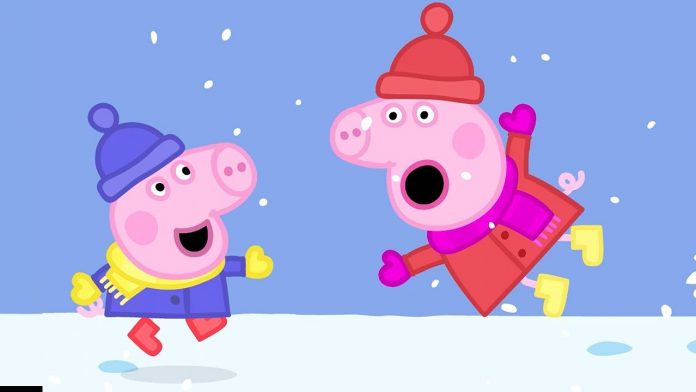 Peppa Pig is a kid's TV show broadcasting in the UK, USA, Australia and Latin America.
Episodes are only about 5 minutes long, which makes them just about the most perfect quick screen treat we can think of.
The show centers around Peppa Pig, her family (Daddy, Mummy, George and grandparents) and friends.
Characters consist of different species of animals. While the show is centered around Peppa, it features an extensive cast of characters who get a lot of screen time.
The following official videos are compilations and they are all clean, safe shows for young children. BUT be warned – Peppa Pig is a hilarious show that children of all ages can enjoy (psst… parents like it too).
After you watch some of these Peppa Pig Episodes, take a look at our collection of funny Peppa Pig Jokes.
Sun, Sea and Snow

Mr Potato's Christmas Show

Snow Fun

Peppa's First Snow Day

More Jokes Continue Below ↓ ↓
George Catches a Cold

New Compilation #3 (1 hour) 2017

You can visit the Official Peppa Pig Channel on Youtube.
Halloween Jokes on your Phone or Device
Never search for clean Halloween jokes again – Download them now instead. Get EVERY Halloween joke you'll ever need right now and access them anytime on your PC, phone, tablet, Kindle or other device – forever! #1 for Parents and Teachers! Great for parties, events, cards and trick-or-treating. Plus you'll get a fun bonus – Halloween Lunch Box Jokes Printable (30+ Days of Jokes).